Can Your Team Compete?
Team Applications for the 2016-17 Season

Application Forms for the 2016-17 season are now available on the Admin/Downloads page of the website.  All applications for the upcoming season will be due at the League Meeting on August 1, 2016.  
Our league welcomes teams who are ready to prove themselves at the highest level in the Philadelphia/South Jersey region.  Our league over the years has had teams who have proven themselves at the highest levels - State, Regional and National Champions.  These teams were tested weekly in league play before ever advancing in other competitions.  Our league provides a balanced competition where no game is certain - Any team can beat any other when Sunday rolls around.
Any new teams wishing to apply should also contact our 2nd Vice-President (Membership) prior to the meeting for application instructions.



Want to play? Find a Team!
If you would like to find a team to play on, follow the link below to give us your information.  Prospective player information is distributed to all teams regularly.
League Meetings


League Meetings are at 8:30pm at the Danubia Club, Southampton Road and Kovats Street, Philadelphia PA.  Meetings are the First Monday of March, April, May, June, August, October and November.  The September meeting is the Last Monday of August.  Board Meetings start at 7:00pm.


The United Soccer League

Founded in 1959.  One of the oldest adult soccer leagues in the country!

US Adult Soccer Elite Amateur League.

Affiliated with US Soccer through US Adult Soccer and E Pennsylvania SA.

South Jersey teams affiliated through New Jersey SA.


Home of many Regional and National Cup Champions, and regularly represented in the Regional Cup brackets.

The highest level of adult amateur competition in Eastern Pennsylvania and South Jersey.


Locations of United Soccer League Clubs
Here is a Google Map showing locations of our clubs.



Connect with us:


Phoenix SC to Host o-30 National Final












Saturday/Sunday July 30/31, 2016

SAT  4:00pm   Phoenix SC / Carpathia Kickers (MI)
SAT  6:00pm  CD Motagua (LA) / Safira Soccer Academy (MA)
SUN   10:00am   Third Place Match
SUN   12:00pm   CHAMPIONSHIP

Congratulations to our 2015-16 Winners!

Mens Major Champions - West Chester United  (12-2-0)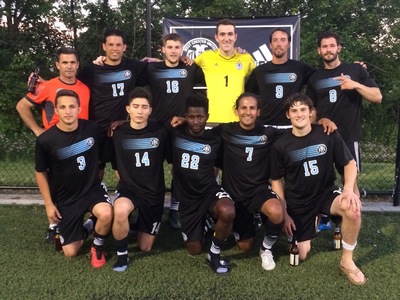 Womens Major Champions - Ukrainian Nationals  (13-2-1)
---
---
---